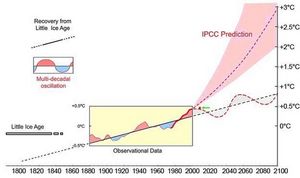 Let's break down the case for human-caused global warming logically:
There is plenty of evidence that global warming has been occurring recently.
There is ample evidence that carbon emissions causes warming and that the level of atmospheric carbon dioxide is increasing.
But there is no evidence that carbon dioxide emissions are the main cause of the recent global warming.
The alarmists focus you entirely on the first two points, to distract you from the third. The public is increasingly aware of this misdirection. Yes, every emitted molecule of carbon dioxide (CO2) causes some warming - but the crucial question is how much warming do the CO2 emissions cause? If atmospheric CO2 levels doubled, would temperatures rise by 0.1, 1.0, or by 10.0C?