The weather bureau says the current low pressure system over south-east Queensland is "a freak event" that has not been seen in Australia since the 1800s.
The system has left backpackers and Indonesian sailors stranded on the coast and substantial rainfall in the Condamine River catchment in inland southern Queensland.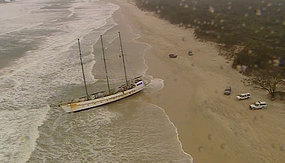 ©ABC News
Indonesian sailors ran aground on Rainbow Beach yesterday.