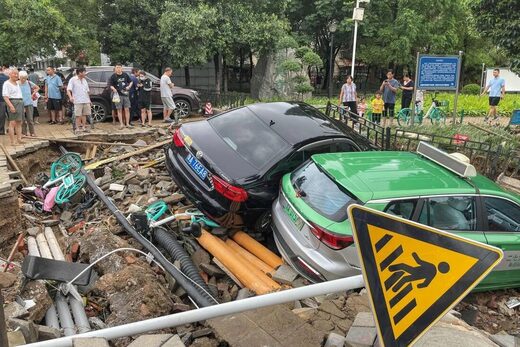 While the provincial capital continued cleaning up, other major cities in the province were facing further heavy downpours.
Rescue services were working to get supplies to outlying villages and distribute supplies after the authorities said 3 million people had been affected.
The central Chinese city of Zhengzhou downgraded its emergency response level on Thursday as it continued to clean up after this week's devastating floods, but other parts of Henan province were braced for further heavy rain.
The storms have killed at least 33 people across the province and more than 3 million have been affected, the local authorities said. A total of eight people have been reported missing, according to state news agency Xinhua.
Zhengzhou, the provincial capital, was hit by several days of
heavy rain,
causing
floods of an intensity not seen in decades.
Three thousand military personnel were working in 10 different danger zones around the city,
Xinhua reported. On Wednesday it published footage showing the soldiers laying sandbags over a breach in a dam on the Jialu river.
Donation points were set up around the city to distribute essential supplies after residents panic-bought supplies during the first days of the flood.