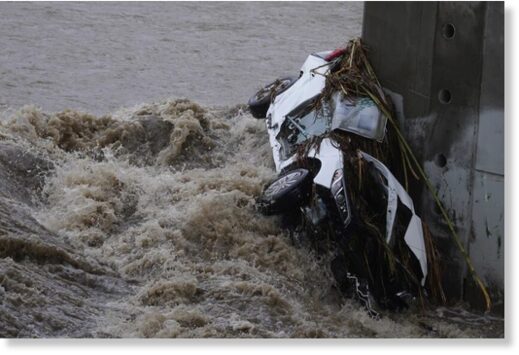 Streets flooded in North Hollywood's Arts District and other neighborhoods.
The normally constrained L.A. River roared to life, sucking vehicles down its surging waters and swamping the small islands that dot the middle of the urban waterway near Atwater Village
. A man in Sylmar had to be rescued after he got swept up into its flow.
Trees were toppled in Whittier,
while homeless people who normally occupy benches near the Civic Center stop downtown huddled in an alcove in an effort to stay dry.
The
most significant storm of the season
arrived in Southern California on Tuesday with a wallop — snarling traffic, delivering gusty winds and
dropping a steady deluge of record-breaking rain and snow across the region.
"As far as intensity, it's one of our stronger storms," said Kristan Lund, a meteorologist with the National Weather Service in Oxnard. "It's definitely the strongest we've seen so far, and potentially one of the stronger ones we'll see this season."