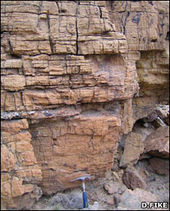 Traces of animal life have been found in rocks dating back 635 million years.
The evidence takes the form of chemical markers that are highly distinctive of sponges when they die and their bodies break down in rock-forming sediments.
The discovery in Oman pushes back the earliest accepted date for animal life on Earth by tens of millions of years.
Scientists tell
Nature
magazine that the creatures' existence will help them understand better what the planet looked like all that time ago.