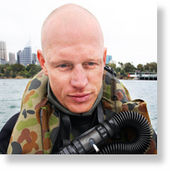 A Navy diver has undergone emergency surgery after fighting off a shark off Woolloomooloo in Sydney Harbour this morning.
The 31-year-old was brought to St Vincent's Hospital in a critical condition about 7:00am (AEDT), with severe injuries to his right hand and right thigh. The hospital has not confirmed reports that the man lost his hand. It says he is in a serious but stable condition in intensive care.
The Navy says the specialist clearance diver was rushed to hospital from Woolloomooloo Bay, in Sydney's inner east, after being bitten off the naval base at Garden Island.