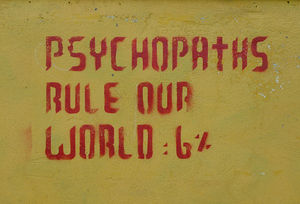 Watching Europe's political class squirm after Ireland's No vote in the Lisbon Treaty referendum last year, I couldn't help but feel that some of them know something we don't:
there is an agenda that must be met
. The Irish people could not be threatened into sealing the nEU Deal, yet it's
business as usual
for the fanatical Eurocrats who are adamant nothing will get in their way. Incessant media hype is portending economic ruin lest Ireland vote 'correctly' at the second time of asking this fall.
It is evident, for those with eyes to see, that political discord between rival criminal cartels is purely for public consumption. Bread and circuses. Policy is not shaped by party politics. Decisions are made by a few: everyone else adjusts or starves. Weapons of financial mass destruction deployed by
Central Bankers
and
Disaster-Capitalists
, under the guise of protecting the markets and improving the efficiency of the system, vacuum the wealth of the nations - the work people produce - into ever fewer hands.
While we share a symbiotic reality, mutually bound by rules and conventions, theirs is very different. It shadows ours, feeding off the real economy below by
manipulating the supply of money
, which private banks control. 'Market crashes' are built into the system. Rules designed to regulate economies and prevent volatility are periodically altered. Hysteria is induced in people through repeated media suggestion forecasting impending doom. In the ensuing panic brought on by shock, windows of opportunity open for the few to
recast the rules
in their favour, extending and entrenching their vice on the real economy.