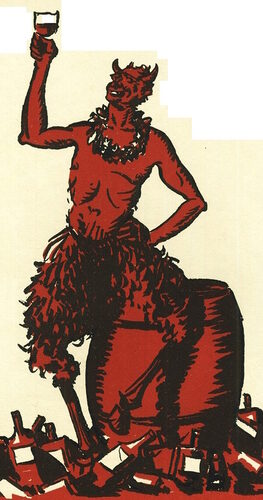 How global networks drive the efficiency curve of Evil (and why it will screw them in the end).
"Is the dullness of your present fare not a very small price to pay for the delicious knowledge that His whole great experiment is petering out? But not only that. As the great sinners grow fewer, and the majority lose all individuality, the great sinners become far more effective agents for us. Every dictator or even demagogue — almost every film star or crooner — can now draw tens of thousands of the human sheep with him. They give themselves (what there is of them) to him; in him, to us. There may come a time when we shall have no need to bother about individual temptation at all, except for the few. Catch the bellwether, and his whole flock comes after him."

— excerpt from Screwtape Proposes a Toast by C.S. Lewis.
The meals the arch-demon Screwtape describes above are the souls of modern people, whose sins aren't nearly as delectable as those of the past. By this he means both the great and bloody criminals of history and the deeper participation of the average person in their crimes. When comparing these to the more commonplace and mundane forms of graft, dishonor and impiety that spread in modernity's wake, Screwtape demonstrates how the latter is preferable in utilitarian terms; "quantity over quality" is essentially his argument.
What prompted me to look up this quote and contemplate it was a conversation thread with fellow Deimos Station member, in which she posited that Screwtape's graduation speech aptly described the "infestation" phase of what we might call demonic possession. I agreed, adding that it could be the kind of phenomenon that occurs at multiple levels and fractal iterations. I think as well that Screwtape's depiction of the modern sinner as less-tasty-but-more-prevalent dovetails neatly with the growth of global communications networks. The net is cast ever wider, but also ever shallower, because a greater number of meaning-starved fish gather near the surface to feed.