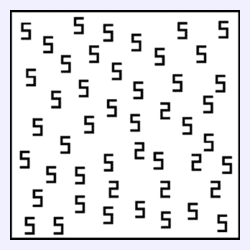 Although you certainly know the difference between a 2 and a 5, identifying the number of times that the figure "2" is printed onto the tile to your left is not necessarily the easiest of tasks. If you are like me, you will have to concentrate and look at the picture line-by-line to distinguish the essentially quite similar symbols that we use to denote twos and fives.
The task would be easier of course, if the 2's and 5's came to us in different colors as they do on the tile below. Or as they do for people who experience
synesthesia,
a particular neurological condition in which one sensory input is involuntarily linked to another sensory experience. Hearing color, seeing sounds as shapes, or - as in the opening example - numbers as colors are all examples of different kinds of synesthetic experiences.
Much has been written about synesthesia, and research on this perplexing phenomena has the potential to offer many exciting insights into how the human brain makes sense of the world; even for those of us who have never tasted yellow, seen a high-C or don't know what the solution to three times four feels like.