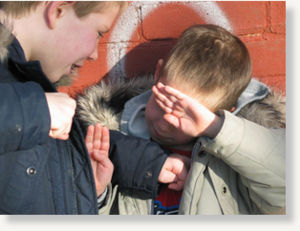 Popularity increases aggression except for those at top of social hierarchy
While experts often view aggressive behavior as a maladjusted reaction typical of social outcasts, a new study in the February issue of the
American Sociological Review
finds that it's actually popular adolescents - but not the most popular ones - who are particularly likely to torment their peers.
"Our findings underscore the argument that - for the most part - attaining and maintaining a high social status likely involves some level of antagonistic behavior," said Robert Faris, an assistant professor of sociology at the University of California-Davis.
The study, which Faris co-authored with sociology professor Diane Felmlee, his UC-Davis colleague, also finds that those students in the top 2% of the school social hierarchy - along with those at the bottom - are the least aggressive.
"The fact that they both have reduced levels of aggression is true, but it can be attributed to quite different things," Faris said. "The ones at the bottom don't have the social power or as much capacity to be aggressive whereas the ones at the top have all that power, but don't need to use it."
Students' popularity was determined by how central they were in their school's web of friendships, and the authors define aggression as behavior directed toward harming or causing pain to another. It can be physical (e.g., hitting, shoving, or kicking), verbal (e.g., name-calling or threats), or indirect (e.g., spreading rumors or ostracism).