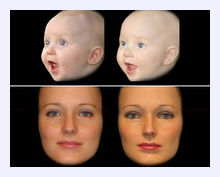 With its technologically advanced animated characters, the 2004 film
The Polar Express
was supposed to change moviemaking. Instead, it gave audiences the creeps. Reviewers dissed it as "the night of the living dead." Why didn't the audience perceive the characters as alive? Something, they said, was wrong with the eyes.
Now, a new study shows just how important the eyes really are when we judge whether a face is that of a living person or an inanimate object. And that ability, the researchers say, is key to our survival, enabling us to quickly determine whether the eyes we're looking at have a mind behind them.
"People want to see faces, and we're very adept at seeing faces everywhere: in clouds, a burnt piece of toast, even two dots and a line," says Christine Looser, a Ph.D. candidate in psychology at Dartmouth College and the study's lead author. "And it makes sense to be aware of faces," because they might be those of living, dangerous creatures, such as a grizzly bear. "But we also don't want to waste time on faces that aren't alive, that aren't attached to minds."