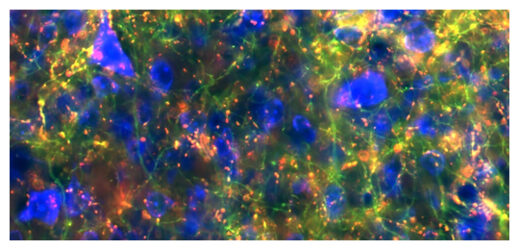 Thousands of our daily activities, from making coffee to taking a walk to saying hello to a neighbor, are made possible through an ancient collection of brain structures tucked away near the center of the cranium.
The cluster of neurons known as the basal ganglia is a central hub for regulating a vast array of routine motor and behavior functions. But when signaling in the basal ganglia is weakened or broken, debilitating movement and psychiatric disorders can emerge, including Parkinson's disease, Tourette's syndrome, attention deficit hyperactivity disorder (ADHD) and obsessive-compulsive disorder.
Despite its central importance in controlling behavior, the specific, detailed paths across which information flows from the basal ganglia to other brain regions have remained poorly charted. Now, researchers at the University of California San Diego, Columbia University's Zuckerman Institute and their colleagues
have generated a precise map of brain connectivity from the largest output nucleus of the basal ganglia, an area known as the substantia nigra pars reticulata, or SNr. The findings offer a blueprint of the area's architecture that revealed new details and a surprising level of influence connected to the basal ganglia.
The results, spearheaded by Assistant Project Scientist Lauren McElvain and carried out in the Neurophysics Laboratory of Professor David Kleinfeld at UC San Diego, and the laboratory of Zuckerman Institute Principal Investigator Rui Costa, are
published April 5 in the journal Neuron.