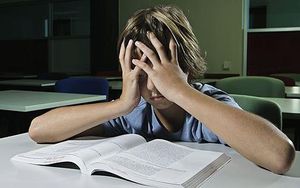 A report in today's newspaper
says that children with attention deficit disorder (ADHD) can't switch off the default mode network (DMN) in their brains, the daydreaming function. Stimulant drugs such as methylphenidate may help to switch off this DMN, turn down the volume, as it were, and enable the ADHD sufferer to focus on a task.
These findings are interesting, but they do not address the question of why so many children are suffering from the condition in the first place. We've reached a point where plenty of us know a child personally who's being medicated to improve his or her behavior.
Half a million prescriptions for Ritalin - one version of methylphenidate - are filled every year
. That is worrying in itself of course, the dosing-up of so many young children with drugs that alter their behavior. But even more alarming is just to think of the changes in society that are creating disturbed children in such numbers. Especially, it is staggering to contemplate the casual neglect and abandonment of children that occurs.
Basically, what's happening is that some people carelessly have children, don't look after them properly and then someone else - the state, the care system - takes over. The process of abandonment combined with lack of love and maltreatment is actually altering the young brains of these children - causing brain damage, really. That's how you get disorders like ADHD: the odd behaviors point to something having changed in the chemistry of the brain, perhaps even in its structure.