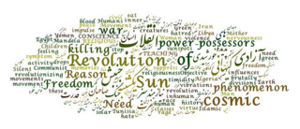 In the past ten days, the news on spaceweather.com has been all about increased solar activity and appearance of gigantic sunspots on our Sun.
Coincidentally reading through and amending my translation of Gurdjieff's Beelzebub's Tales to His Grandson, I accidentally reached the explanation of a cosmic phenomenon which he calls Law of Solioonensius, emerging as the result of increasing tension in our Sun spreading naturally to all its planet, with the resulting effect that 'feeling of religiousness' increases in us. This is when we can use the opportunity to accelerate the development of Objective Reason in us through our own desires and efforts to be what we are supposed to be, Humans, distinguished from other creatures solely by virtue of this Reason. It is like a booty given to all to strive in this direction. This is what our far far ancestors, before our division to casts and classes knew and thus used the opportunity in the corresponding way. With the dawn of history and our divisions to classes, when this same cosmic phenomenon happens, and we recognize a strange 'feeling' in ourselves as a result, we apparently take it as a symptom of 'nervousness' leading to another feeling which Gurdjieff calls the 'Need of Freedom.'
With this introduction, all of a sudden remembering the fact that this state of affairs has been going on almost continuously with only short periods of 'peace' among and within nations inhabiting this part of our Mother Earth since WWII and Communist Revolution and later Islamic Revolution, and the coincidence of higher activity of our Sun these days with mass movements in Tunisia, Egypt, Yemen, Algeria, Libya, and the persistence of 'Silent Green Movement' in Iran, all manifesting the "need of freedom", I thought this sharing may open a new window as it did for me.