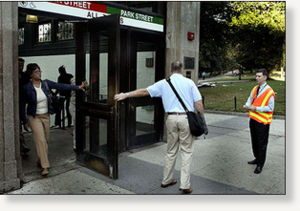 A polite act shows respect.
But a new study of a common etiquette - holding a door for someone - suggests that courtesy may have a more practical, though unconscious, shared motivation: to reduce the work for those involved.
The research, by Joseph P. Santamaria and David A. Rosenbaum of Pennsylvania State University, is the first to combine two fields of study ordinarily considered unrelated: altruism and motor control. It is to be published in a forthcoming issue of
Psychological Science
, a journal of the Association for Psychological Science.
"The way etiquette has been viewed by Emily Post - that you're being proper by following social codes - is undoubtedly part of it," said psychology professor Rosenbaum. "
Our insight is there is another contributor: the mental representation of other people's physical effort.
Substantial research in the field of motor control shows that people are good at estimating how much effort they and others expend," Rosenbaum continued. "We realized that this concept could be extended to a shared-effort model of politeness."