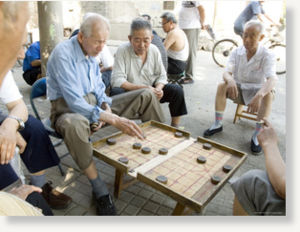 If you want to keep your brain healthy, it turns out that visiting friends, attending parties, and even going to church might be just as good for you as crossword puzzles.
According to research conducted at Rush University Medical Center, frequent social activity may help to prevent or delay cognitive decline in old age. The study has just been posted online in the
Journal of the International Neuropsychological Society
.
The researchers were especially careful in their analysis to try to rule out the possibility that cognitive decline precedes, or causes, social isolation, and not the reverse.
"It's logical to think that when someone's cognitive abilities break down, they are less likely to go out and meet friends, enjoy a camping trip, or participate in community clubs. If memory and thinking capabilities fail, socializing becomes difficult," said lead researcher Bryan James, PhD, postdoctoral fellow in the epidemiology of aging and dementia in the Rush Alzheimer's Disease Center.
"But our findings suggest that social inactivity itself leads to cognitive impairments."
The study included 1,138 older adults with a mean age of 80 who are participating in the Rush Memory and Aging Project, an ongoing longitudinal study of common chronic conditions of aging. They each underwent yearly evaluations that included a medical history and neuropsychological tests.