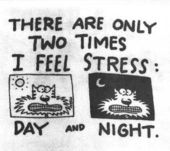 A considerable number of Americans are trapped in a vicious cycle of unhealthy attempts to manage their high levels of stress, which limits their ability to make beneficial behavioral or lifestyle changes. 2010 Stress in America, a new study released by the American Psychological Association cautions that the impact of long-term (chronic) stress can leave serious physical and emotional consequences for individuals and their families.
A 2010 Harris Interactive survey reveals that many people, especially those who believe they are in fair or poor health, claim to lack the willpower and opportunity to make useful changes that would improve their lives.
Parents also appear to be unaware of the effect the stress they have to bear is having on their children. A growing number of young children are describing emotional and health consequences typically linked to stress.