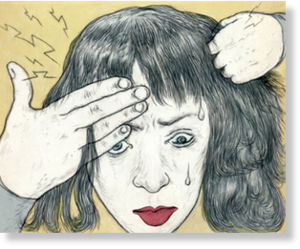 How a broken heart can really break your heart, violent games can ease your stress, and the lowest-stress job around.
Think about money, work, economic outlook, family, and relationships. Feeling anxious? In a 2010 American Psychological Association survey [pdf], those five factors were the most often cited sources of stress for Americans.
Stress is strongly tied to cardiac disease, hypertension, inflammatory diseases, and compromised immune systems, and possibly to cancer.
And stress can literally break your heart. Takotsubo cardiomyopathy, or "broken heart syndrome," occurs when the bottom of the heart balloons into the shape of a pot (a tako-tsubo) used in Japan to trap octopus. It's caused when grief or another extreme stressor makes stress hormones flood the heart.