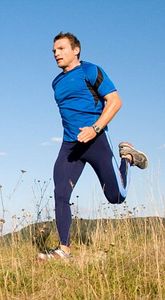 Physical activity can almost halve your risk of depression - but only if you build up a sweat in your leisure time, according to a study.
Researchers from King's College London found people who take regular exercise are far less likely to be depressed.
But the benefit was not felt by people who exerted themselves at work, for instance by digging up roads or performing heavy lifting.
The team of scientists studied just over forty thousand Norwegian residents. They asked them how often they engaged in both light and intense physical activity during their leisure time.