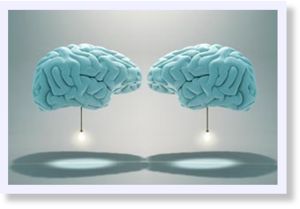 Contrary to popular opinion, people who say they are still madly in love with their spouses after more than two decades are not crazy. At least, some of them aren't. And in answer to your next question, apparently they're not lying either. This is the proposition of a new study published in the December issue of
Social Cognitive and Affective Neuroscience
that took brain scans of long-married people who claimed to still be besotted with their marital partner.
The prevailing theory on
romantic love
is that it more or less serves the same purpose as the booster rocket in expeditions into outer space. The initial tingly can't-think-about-anything-else swooning launches the couple into orbit, but falls away after the spacecraft reaches a certain altitude, to be replaced by "companionate love," a more regulated, less passionate affection that binds two people together, bolted together a bit with shared history and interests.