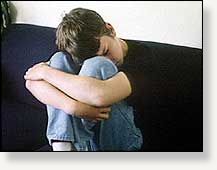 The way you react to your two-year-old's temper tantrums or clinginess may lead to anxiety, withdrawal and behavior problems down the road, and the effect is more pronounced if the child is a boy who often displays such negative emotions as anger and social fearfulness, reports a new University of Illinois study.
"Young children, especially boys, may need their parents' help working through angry or fearful emotions. If you punish toddlers for their anger and frustration or act as if their fears are silly or shameful, they may internalize those negative emotions, and that may lead to behavior problems as they get older,"
said Nancy McElwain, a U of I associate professor of human development.
McElwain and lead author Jennifer Engle examined data gleaned from observations of 107 children who were part of a larger study of children's social and emotional development and parent-child relationships.
When the children were 33 months old, mothers and fathers were asked how often their child had displayed anger or social fearfulness in the last month. The parents were also asked how they would respond to the child's negative emotions in several hypothetical situations.