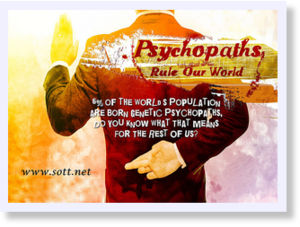 If the word psychopath conjures up serial killers Charles Manson, Jeffrey Dahmer and Ted Bundy, the reality is that the blood-and-guts brigade are unlikely to get you.
The bad news is that there's a sub-species that will not slice you up and savour the wet bits but they're a lot closer to home and, paradoxically, harder to spot.
There is a psychopath on your stoop, on the golf course, in your book club, at your school reunion, between your sheets, even, rather disappointingly, behind the pulpit. In business they suck in their acolytes like a grade five hurricane.
Take Brett Kebble. At the height of his power, 41-year-old Kebble was seen as a colourful character known for his flamboyant lifestyle, overt generosity and a championing of black empowerment.
Although there were dark mutterings about his unorthodox business methods while he was alive, posthumously it was Pandora's box.
Kebble was exposed in the ongoing and protracted court case over his execution as one of the century's major confidence tricksters who dealt with perceived threats -- in the one instance we know of, according to evidence presented at the South Gauteng High Court -- by organising a conveniently debilitating stay in hospital for the "obstacle".
'The role of sociopaths in business'
At an investigative journalism workshop at Wits University in August 2006 on the Kebble story, Martin Weltz, the
Noseweek
editor, remarked that he had "long been interested in the role of sociopaths in business -- conmen, people who have the most unbelievable skills, like selling fridges in the Antarctic. South Africa also has its own community of conmen in business and Brett Kebble was one."
Weltz used the term sociopath but psychopath seems more apt. Although the terms are often used interchangeably, some psychologists see a sociopath's crimes as typically disorganised and spontaneous, while a psychopath's crimes are well planned. For this reason, psychopaths are harder to catch. Kebble's organisation and reach point to the latter.
Psychopaths may be obvious in a postmortem of the results of their actions but spotting them before the destruction is not that easy. They walk into a room and scan your barcode in minutes, capturing your likes, dislikes, motives, needs and -- most gratifying for them -- your weaknesses and vulnerabilities.