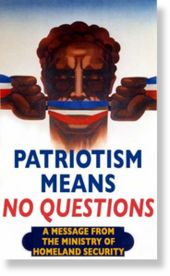 Despite all the talk over the past 15 years or so about the US and coalition forces being engaged in various 'wars', there haven't actually been any. To have a war you need two sizable armies representing two opposing nation states both with the capability to wage war on each other. I'd be impressed if anyone can point to the US or any Western nation being involved in such a conflict over the past 15 years, anywhere in the world.
During those last 15 years however, a very different type of war has been waged. It has been a much more subtle, stealthy and insidious war, and the mind of every Western citizen with two active neurons to rub together has been the target.
Do you know who
Dr. Aafia Siddiqui
is? She's a American-educated Pakistani cognitive neuroscientist and mother of three children, but she hasn't seen her children for 7 years. Aafia and her children were abducted in Pakistan in 2003 by US and Pakistani intelligence agents and incarcerated on trumped up 'terrorism' charges.
During her long 'rendition' she was held in various locations, including the infamous US Bagram Air Force base in Afghanistan, where she was regularly tortured, raped and ultimately shot and wounded.