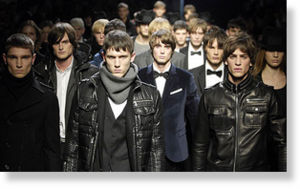 They're less fertile, more weight-obsessed and 'non-essential to parenting'. No wonder men are confused about modern masculinity.
If recent research is anything to go by, 21st century man is in a desperate muddle.
In June, men discovered that their libidos are in freefall, prompting a 40 per cent increase in males seeking counselling for impotence problems. Their existential angst worsened in July, when British men discovered that they have the most unequal paternity rights in Europe. According to Nicola Brewer, chief executive of the Equality and Human Rights Commission, fathers in the UK are seen as 'not essential for parenting'. The same month saw the publication of a medical study that proved the quality of men's sperm declines to such an extent after they hit 45 that the chances of a partner's miscarriage are doubled.