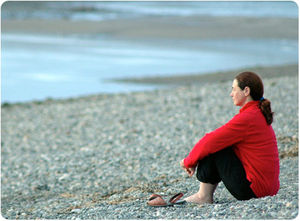 Really, it's not religious. It is merely the momentary pause of thought. It is as religious as the holding of breath as you dive under water, or the halt of stepping as you pause from a rapid pace. It's as religious as the not eating that sometimes happens between meals. It's as religious as summer vacation, the space between words, or briefly being between jobs.
Meditation is innately human, and certainly in simpler times gone by, meditation came easily to us. Sitting under a tree near the river, listening to the sound of water moving, I suppose thought naturally paused for a few minutes in peaceful, spontaneous harmony. Or while watching the magnificence of the stars emerging in the sky as the world grew dark and quiet, rest undoubtedly came naturally to the mind.
Science now tells us that this kind of rest for the mind is healing to the body, and it also helps to rebuild brain tissue and prevent several psychological disorders, including Alzheimer's and ADD.