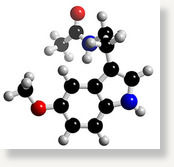 News have been released that "according to a recent study accepted for publication in
The Endocrine Society's Journal of Clinical Endocrinology & Metabolism (JCEM)
, exposure to electrical light between dusk and bedtime strongly suppresses melatonin levels and may impact physiologic processes regulated by melatonin signaling, such as sleepiness, thermo regulation, blood pressure and glucose homeostasis."
In my book
Lights Out
, I have pointed out that melatonin and progesterone are both master-switch hormonal controllers. If either one is out of sync, it reads to nature as "pushing a red button." Any light at night changes natural rhythms.
As time goes on, we increase the amount of responsibilities and tasks that we take on, and as a result we sleep less and less. "In 1910 the average adult was still sleeping nine to ten hours a night. Now the average adult is lucky to get a full seven hours a night. You can't make melatonin in the daytime or with the lights on. We need to understand that "going to sleep with the sunset means a whole-body melatonin bath." When we sleep short nights that mimic summer mean: Reduced melatonin secretion which means reduces white cell immune function; A sever reduction in the most potent antioxidant that you have-melatonin."
In the study, recently reported researchers evaluated 116 healthy volunteers aged 18-30 years who were exposed to room light or dim light in the eight hours preceding bedtime for five consecutive days. An intravenous catheter was inserted into the forearms of study participants for continuous collection of blood plasma every 30-60 minutes for melatonin measurements. Results showed exposure to room light before bedtime shortened melatonin duration by about 90 minutes when compared to dim light exposure. Furthermore, exposure to room light during the usual hours of sleep suppressed melatonin by greater than 50 percent.