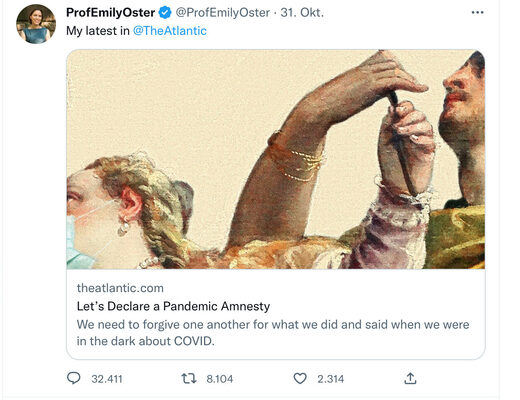 Alas,
Emily Oster's proposal that we just forget and forgive the pandemic insanity of the past few years has pleased no one.
This is partly because her op-ed is tone deaf and stupid, of course, but it's probably also down to Emily Oster herself, and a growing cultural exhaustion with the kind of person she represents. Oster is,
in the terminology of Bruce Charlton
, an almost archetypal Head Girl — the typical "all-rounder" who "performs extremely well in all school subjects" and "is excellent at sports," while being "pretty, popular, sociable and well-behaved":
The Head Girl will probably be a big success in life, in whatever terms being a big success happens to be framed .... But the Head Girl is not, cannot be, a creative genius.

Modern society is run by Head Girls, of both sexes ... Modern colleges aim at recruiting Head Girls, so do universities, so does science, so do the arts, so does the mass media, so does the legal profession, so does medicine, so does the military...