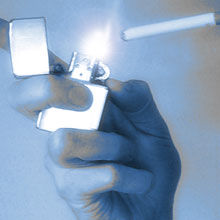 University of Iowa researchers believe they have found a genetic pattern among smokers.
Researchers at the University of Iowa have identified certain genetic profiles that may be linked to a person's risk for developing nicotine addiction and other psychological behaviors. Using a genome-wide scan,
scientists analyzed blood samples from smokers versus nonsmokers and found similar genetic patterns among smokers
that may one day be used as a genetic test to determine who may be more vulnerable to nicotine addiction.
"When you look at substance-abuse disorders and antisocial behavior, these are the last vestiges of the belief that mental impairments are related to moral will," says Tracy Gunter, director of forensic psychiatry at the University of Iowa and a coauthor of the study.
"And one of the exciting things in this work is [that] it's beginning to form ideas that folks with these disorders are biologically different."
Comment: Nevermind the anti-smoking fascists' propaganda about "disorders" and "addictions" - the point to take home is that there's an undeniable biological difference.
In the past few years, researchers around the world have zeroed in on various genetic regions believed to be involved in one's vulnerability to addiction. Some have studied genes that control certain neurotransmitters in the brain, while others have looked at genes related to addictive traits like risk taking and impulsivity. Gunter and her colleagues chose to look at the genome as a whole and observe which genes are turned on and which turned off in people with a long history of smoking.