Carol Meteyer solves cases of mysterious wildlife death using advanced forensic skills to help prosecute people who kill animals in violation of federal law.
Carol Meteyer unfurled the Sandhill crane's gray wings across the steel examination table, and for a moment, the 4-foot-tall bird regained its former majesty. In that instant, the laboratory's windowless cinderblock walls, cement floor and fluorescent lights disappeared. It was easy to imagine the crane's wings cupping the prairie air as it landed in an Oklahoma field, its long gray neck stretched, its red crown the only bright spot in a dun landscape.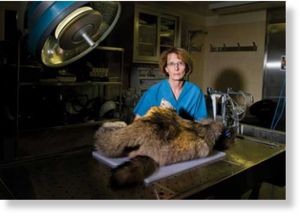 FedEx had delivered the crane, along with three others, that morning. The day before, it had stood in a farm field in Oklahoma, its head bowed and its wings limp; 10 other cranes were already dead or showing similar symptoms.
Dead animals arrive at the National Wildlife Health Center in Madison, Wis., almost every day, usually by overnight delivery in plastic coolers. State and federal wildlife biologists from all over the country send carcasses to the lab hoping to solve cases of mysterious animal deaths, to confirm their own diagnoses or to provide evidence in legal cases against an animal's killer. Because it does solve animal murder mysteries through scientific investigation, the center has been called wildlife's own CSI unit. It would be just as accurate, though, to call it a wildlife Centers for Disease Control and Prevention. The CDC also solves deadly mysteries, but the emphasis there, as at the wildlife health center, is on research, outreach and prevention of needless death.