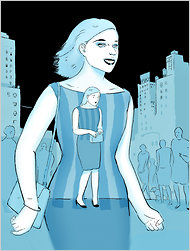 A
Beautiful
woman lowers her eyes demurely beneath a hat. In an earlier era, her gaze might have signaled a mysterious allure. But this is a 2003 advertisement for Zoloft, a selective serotonin reuptake inhibitor (S.S.R.I.) approved by the F.D.A. to treat social anxiety disorder. "Is she just shy? Or is it Social Anxiety Disorder?" reads the caption, suggesting that the young woman is not alluring at all. She is sick.
But is she?
It is possible that the lovely young woman has a life-wrecking form of social anxiety. There are people too afraid of disapproval to venture out for a job interview, a date or even a meal in public. Despite the risk of serious side effects - nausea, loss of sex drive, seizures - drugs like Zoloft can be a godsend for this group.
But the ad's insinuation aside, it's also possible the young woman is "just shy," or introverted - traits our society disfavors. One way we manifest this bias is by encouraging perfectly healthy shy people to see themselves as ill.