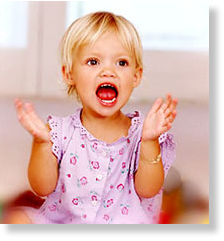 It's not just the words, but the sounds of words that have meaning for us. This is true for children and adults, who can associate the strictly auditory parts of language - vowels produced in the front or the back of the mouth, high or low pitch - with blunt or pointy things, large or small things, fast-moving or long-staying things.
Do the same principles apply for young infants, and not just to things, but also to abstractions? A new study by Marcela Peña, Jacques Mehler, and Marina Nespor, working together at the International School for Advanced Studies, in Trieste, Italy and Catholic University of Chile, says yes. For the first time ever,
the researchers have demonstrated that these physical properties of speech are associated, very early in life, with abstract concepts - in this case, larger and smaller
. The findings will be published in an upcoming issue of
Psychological Science
, a journal of the Association for Psychological Science.
The researchers worked with 28 four-month-old babies from Spanish-speaking homes. The babies sat on their parents' laps (the parents were visually masked) in a soundproof room, into which were piped nonsense syllables composed of consonants followed by the vowels I or O, or E or A. The babies were simultaneously shown larger and smaller versions of circles, ovals, squares, or triangles, in different colors. Using an eye tracker, experimenters recorded which object the infants looked at first and how long they gazed at each object.