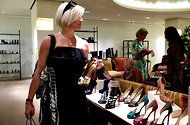 The 'Haves' show less empathy than 'Have-nots'
Psychologist and social scientist Dacher Keltner says the rich really are different, and not in a good way: Their life experience makes them less empathetic, less altruistic, and generally more selfish.
In fact, he says, the philosophical battle over economics, taxes, debt ceilings and defaults that are now roiling the stock market is partly rooted in an upper class "ideology of self-interest."
"We have now done 12 separate studies measuring empathy in every way imaginable, social behavior in every way, and some work on compassion and it's the same story," he said. "Lower class people just show more empathy, more prosocial behavior, more compassion, no matter how you look at it."
In an academic version of a Depression-era Frank Capra movie, Keltner and co-authors of an article called "Social Class as Culture: The Convergence of Resources and Rank in the Social Realm," published this week in the journal
Current Directions in Psychological Science
, argue that "upper-class rank perceptions trigger a focus away from the context toward the self...."