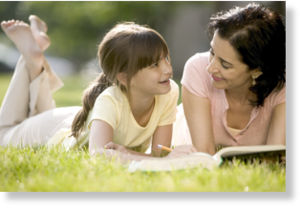 University at Buffalo study finds assimilated narratives open brave new worlds to us and in us.
Bad news for muggle parents! A new study by psychologists at the University at Buffalo finds that
we more or less "become" vampires or wizards just by reading about them.
The good news is that, although we might think our teeth are a little sharper after a session with
Twilight
, reading satisfies a deeply felt need for human connection because we not only feel like the characters we read about but, psychologically speaking, become part of their world and derive emotional benefits from the experience.
"Becoming a Vampire Without Being Bitten: The Narrative Collective Assimilation Hypothesis," published in the current issue journal
Psychological Science
, presents research supporting the authors' hypothesis that
by absorbing narratives, we can psychologically become a member of the group of characters described therein, a process that makes us feel connected to those characters and their social world.
Authors Shira Gabriel, PhD, associate professor of psychology at UB, and Ariana Young, a UB graduate student working in the field of social psychology, also found that
the sense of belonging that results from assimilating narratives provokes the same feelings of satisfaction and happiness we would have if we actually were part of the world described.