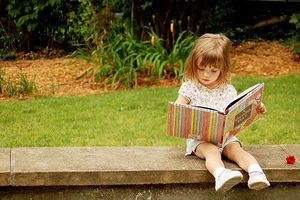 I went to a dinner party at a friend's home last weekend, and met her five-year-old daughter for the first time.
Little Maya was all curly brown hair, doe-like dark eyes, and adorable in her shiny pink nightgown. I wanted to squeal, "Maya, you're so cute! Look at you! Turn around and model that pretty ruffled gown, you gorgeous thing!"
But I didn't. I squelched myself. As I always bite my tongue when I meet little girls, restraining myself from my first impulse, which is to tell them how darn cute/ pretty/ beautiful/ well-dressed/ well-manicured/ well-coiffed they are.
What's wrong with that? It's our culture's standard talking-to-little-girls icebreaker, isn't it? And why not give them a sincere compliment to boost their self-esteem? Because they are so darling I just want to burst when I meet them, honestly.
Hold that thought for just a moment.
This week ABC News reported that nearly half of all three- to six-year-old girls worry about being fat. In my book,
Think: Straight Talk for Women to Stay Smart in a Dumbed-Down World
, I reveal that 15 to 18 percent of girls under 12 now wear mascara, eyeliner and lipstick regularly; eating disorders are up and self-esteem is down; and 25 percent of young American women would rather win
America's Next Top Model
than the Nobel Peace Prize. Even bright, successful college women say they'd rather be hot than smart. A Miami mom just
died
from cosmetic surgery, leaving behind two teenagers. This keeps happening, and it breaks my heart.