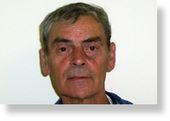 He sat calmly in court throughout the 21 days of his trial, apparently unmoved by the public airing of his terrible crimes. He simply denied he had committed them and sat impassively as the awful details of his deeds were revealed one by one.
The magnitude of the charges he faced and the sheer harm he caused to his victim, her family and her friends appeared to escape him. He just sat, small and silent, day after day, taking the odd note, gently smiling in recognition at a witness asked to identify him in court.
This was a man not intent on proving his innocence, but a psychopath completely untouched by the terror inflicted on Vicky Hamilton, just 15 when she was drugged, sexually assaulted and murdered; indifferent also to the 17-year nightmare he created in the aftermath.