A month ago, Richard Hanania responded
on his Substack
to a tweet by
Rob Henderson
. Here's the tweet in question: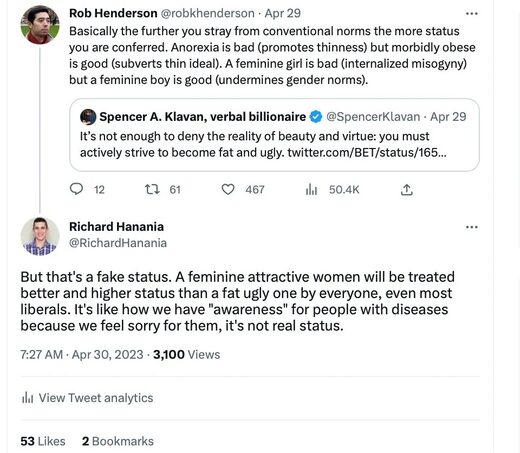 Hanania's main point, expanded upon
in his article
: in practice, people don't actually internalize these Woke standards, and the Kate Uptons of the world will always be higher status in social interactions, whatever the "correct beliefs" may happen to be. Call some feature of a normal woman masculine, or a typical man effeminate, and they won't respond favorably — despite professed values to the contrary. Attractive people get treated better than unattractive people. It's human nature.
He has a point — an important one. But by focusing on the details in typical autist fashion (AKA nitpicking),
I think he misses the bigger point. And this point is hidden right there in his description of the exceptions who
do
take this nonsense seriously: "they are a minority and usually miserable due to how much cognitive dissonance it takes to act so contrary to human nature."
Note the caveats in his arguments:
"a highly educated young woman who has views and attitudes typical of her social class"
"unless she's a fully committed pronoun person"
"typical cis-hetero male"
"except those who most deeply internalize woke ideology"