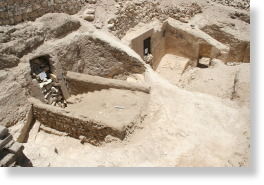 A wealth of discoveries and information already, with a promise of more to come.
One might think that the archaeological treasures of ancient Egypt have been pretty much picked over by now. Of all the civilizations that have graced the pages of archaeological romance, ancient Egypt stands arguably on top. For thousands of years, tomb robbers have looted it, and since the 18th century, archaeologists have systematically pored over the remains. Thus it could be said that this field has already seen its heyday.
But for Professor Donald Redford and Dr. Susan Redford of Pennsylvania State University, like other scholars in their field, it offers a seemingly inexhaustible supply of new finds and surprises that continue to excite the imagination of would-be Egyptologists and archaeologists.
For the past two decades, they have directed expeditions to two separate ancient locations in Egypt, one near the west bank of the Nile in the Valley of the Nobles, part of the Theban necropolis opposite Luxor, and the other much farther to the north in the Nile Delta region. Both locations have yielded discoveries that have made archaeology news headlines and have created new questions and avenues of investigation.