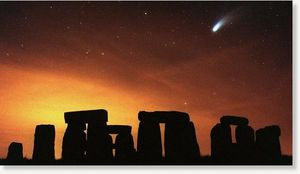 Update: We covered a list of prophecies in the first part of this series. The idea of California 'falling into the sea' was mentioned. Just a few days ago, another chunk of it did just that. Specifically, part of the Paseo del Mar road in San Pedro fell into the Pacific Ocean after a landslide on 21 November. We don't think this particular landslide is what the Cs were referring to, just thought the timing was interesting in light of bringing it up here!
Just as new discoveries in science can overturn a previously held 'consensus' in a heartbeat (often to the consternation or willful disbelief of those promoting the consensus), new historical data can turn our ideas of what we think happened in our history on their head. We often take for granted that event X occurred in year Y, forgetting that either or both of those variables may be completely false. The event may turn out to have been a fiction, created by scribes and leaders of the time (or years later) for purposes of political propaganda. Dating methods may be inaccurate or possess possible confounding factors, mucking up the accepted timeline. Or, when new documents or scientific data are discovered, the event may turn out to bear little resemblance to our previous ideas of how it happened. New actors emerge with new motivations, necessitating a revision of the history books and the way we see the events and personages of our near and distant past.
Then there are the problems inherent in the study of prehistory, before the advent of 'history' as we know it. There, we only have scarce clues to rely on, all built on sciences which are themselves built on certain assumptions about the way things work. Archaeology, paleoanthropology, population and molecular genetics, climate science, geology... all of these contribute to a story of the past that historians create for us. When we consider the relatively young age of many of these sciences, the amount of information that we have amassed in that short amount of time is pretty staggering. But it's important to keep in mind that history too is a work in progress; new theories and advancements in science can prompt a radical revision of old ideas.
Prehistory occupies a good portion of the Cs transcripts. While archaeologists and anthropologists can piece together broad outlines of migrations, genetic mixing, human behaviors, population bottlenecks, etc., this was a period from which no written records appear to have survived. As such, it's hard to verify specific historical details and much of what the Cs say about these times remains interesting conjecture. But while much of it is unverifiable, it also provides opportunities to test the material as new discoveries come to light: fossil finds, climate studies, evidence for catastrophes and extinctions, and more.