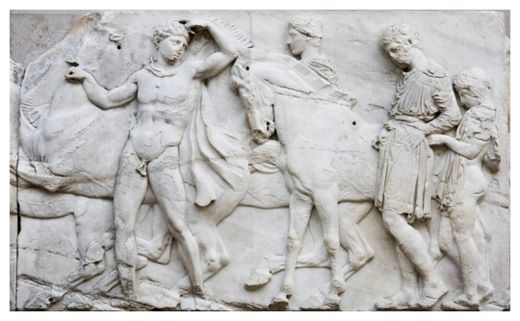 The Elgin Marbles, sometimes referred to as the Parthenon sculptures, are a collection of marble sculptures that originally adorned the top of the exterior of the Parthenon in Athens, Greece, and are now in London, England.
They are currently exhibited, free to the public, in the Duveen Gallery in the British Museum. Although today the sculptures appear white, originally they were painted in vivid colors, something that
new research is revealing
.
The marbles in London were removed from the Parthenon in the first decade of the 19th century under the auspices of Thomas Bruce, the seventh Earl of Elgin, and were first exhibited in London in 1807. Their removal
is deeply controversial
and the Greek government has requested that they be repatriated, a debate that has garnered extensive media attention. Not all the sculptures from the Parthenon are in the British Museum; another large portion is still in Athens, while a few other sculptures are in different museums throughout the world.