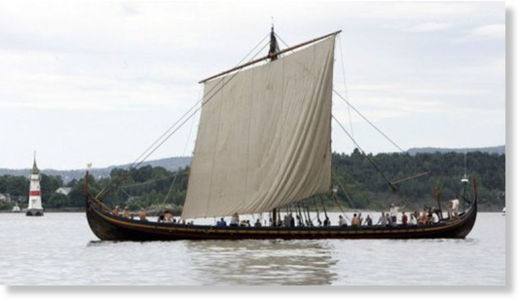 An oblong crystal found in the wreck of a 16th-century English warship is a sunstone, a near-mythical navigational aid said to have been used by Viking mariners, researchers said on Wednesday.
The stone is made of Iceland spar, a transparent, naturally-occurring calcite crystal that polarises light and can get a bearing on the Sun, they said.
It was found in the remains of a ship that had been dispatched to France in 1592 by Queen Elizabeth I as a precaution against a second Spanish Armada but foundered off the island of Alderney, in the Channel.
British and French scientists have long argued that the find is a sunstone - a device that fractures the light, enabling seafarers to locate the Sun even when it is behind clouds or has dipped below the horizon.
Sunstones, according to a theory first aired 45 years ago, helped the great Norse mariners to navigate their way to Iceland and even perhaps as far as North America during the Viking heyday of 900-1200 AD, way before the magnetic compass was introduced in Europe in the 13th century.
But there is only a sketchy reference in ancient Norse literature to a "solarsteinn," which means the idea has remained frustratingly without solid proof.