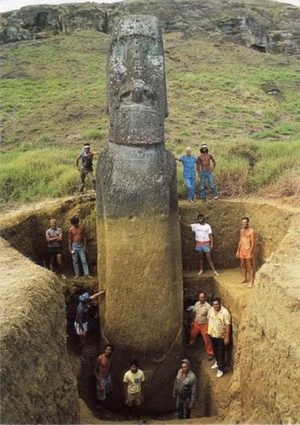 Easter Island's colossal statues loom large — both literally and figuratively — in the popular imagination. The massive heads and torsos dot the landscape like stone sentinels, standing guard over the isle's treeless, grassy expanse.
The statues have inspired widespread speculation, awe, and wonder for centuries. But the island, called Rapa Nui by its Indigenous people, has also captured the world's imagination for an entirely different reason.
Rapa Nui is often seen as a cautionary example of societal collapse. In this story, made popular by geographer Jared Diamond's bestselling book
Collapse
, the Indigenous people of the island, the Rapanui, so destroyed their environment that, by around 1600, their society fell into a downward spiral of warfare, cannibalism, and population decline. These catastrophes, the collapse narrative explains, resulted in the destruction of the social and political structures that were in place during precolonial times, though the people of Rapa Nui survive and persist on the island to the present day.