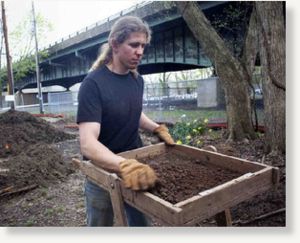 Beneath the roaring traffic of I-95 near the Delaware River in Bucks County, archaeologists are slowly unearthing the remains of another era - arrowheads, chunks of pottery, and perhaps even the remnants of a fire pit used by American Indians up to 1,000 years ago.
And they're just getting started.
During the next few months, workers will continue to strip away layer after layer of rich brown soil on a small piece of what used to be farmland in Lower Makefield, and they could find artifacts dating to 8000 to 10,000 B.C.
"It takes a lot of patience," said John W. Lawrence, senior archaeologist at the excavation site along River Road, where a new bridge is scheduled to be built in the coming years to replace the Scudder Falls Bridge between Bucks County and New Jersey.
The $322 million Scudder Falls project is the largest ever undertaken by the Delaware River Joint Toll Bridge Commission. Such archaeological digs are required by federal law when a construction project may threaten historic and archaeological artifacts.