In a study to be published this month in the
Proceedings of the Athens Archaeological Society
, archaeologist Michael Cosmopoulos of the University of Missouri-St. Louis shares his discovery of a clay tablet showing the earliest known writing in Europe.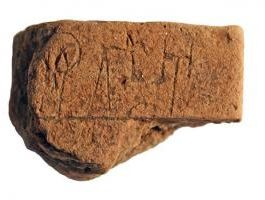 Located in the southwestern corner of Greece, the town where this discovery took place is Iklaina. This town dates back to the Mycenaean period of 1500 BC to 100 BC, and around 1400 BC was conquered by King Nestor.
Cosmopoulos has been actively excavating this site for 11 years and has found evidence of a Mycenaean palace, including colorful murals, Cyclopean walls, and an elaborate drainage system made from clay pipes. However, this tablet has been his most unexpected find.
Tablets of this nature were made from clay which was allowed to dry in the sun, making them very brittle and easily destroyed. The tablet they discovered however, had been thrown in a garbage pit and burned, thus firing the clay and leaving it preserved.