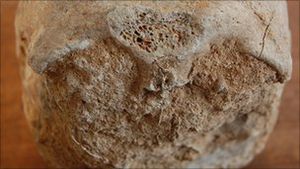 Somerset was the site of the UK's oldest open-air cemetery, the county council says.
Recent radiocarbon dating of two skulls found at a sand quarry in Greylake nature reserve near Middlezoy in 1928 revealed them to be 10,000 years old.
The council said the find was made under its Lost Islands of Somerset project by a team investigating the archaeology of the Somerset Levels.
Since their discovery, the skulls have been held at Bridgwater's Blake Museum.
The new findings show that by around 8,300 BC, hunter-gatherers were burying their dead on what was once an island amid the Levels.