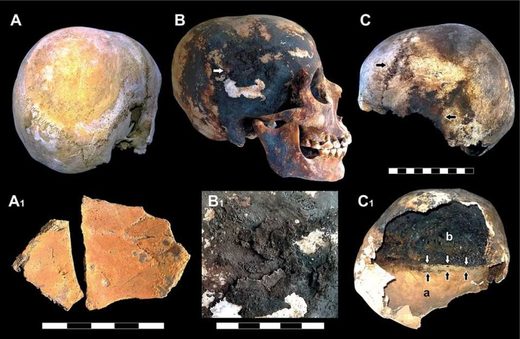 In 79 AD, thousands of Romans were killed when Mt. Vesuvius erupted over a period of two days, covering the towns of Pompeii and Herculaneum and burying outlying villas like Stabiae and Oplontis. A new study suggests that the proximate cause of death for many people may have been immediate vaporization of body fluid with resulting skull explosions due to the intense heat of the volcano.
Writing last week in the journal
PLOS One
, a team of Italian researchers, led by Pierpaolo Petrone of the Federico II University Hospital in Naples, Italy, has revealed that numerous skeletons recovered from the waterfront chambers at Herculaneum were
covered in mysterious red and black mineral residues. Based on mass spectrometry and microspectroscopy, the team hypothesizes that the residues represent iron from human blood that was exposed to extreme heat.
The so-called boat houses at Herculaneum where approximately 140 skeletons have been found were not excavated until the 1980s, as the massive site was
buried underneath

20 meters

of volcanic deposits.
These skeletons were removed for laboratory analysis, and the bodies that tourists today stop to examine are actually fiberglass reproductions.