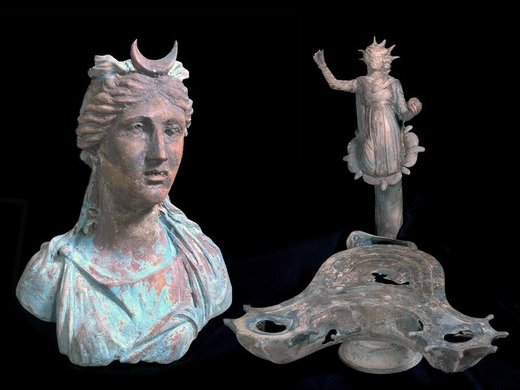 IAA archaeologists diving in the ancient harbor in the Caesarea National Park recovered beautiful artifacts and coins from a 1,600-year-old shipwreck. This is the largest assemblage of marine artifacts to be recovered in the past thirty years.
A fortuitous discovery by two divers in the ancient port of Caesarea in the Caesarea National Park before the Passover holiday led to the exposure of a
large, spectacular and beautiful ancient marine cargo of a merchant ship that sank during the Late Roman period 1,600 years ago.
As soon as they emerged from the water divers Ran Feinstein and Ofer Ra'anan of Ra'anana contacted the Israel Antiquities Authority and reported the discovery and removal of several ancient items from the sea.
A joint dive at the site together with IAA archaeologists revealed that an extensive portion of the seabed had been cleared of sand and the remains of a ship were left uncovered on the sea bottom: iron anchors, remains of wooden anchors and items that were used in the construction and running of the sailing vessel. An underwater salvage survey conducted in recent weeks with the assistance of many divers from the Israel Antiquities Authority and volunteers using advanced equipment discovered numerous items that were part of the ship's cargo.