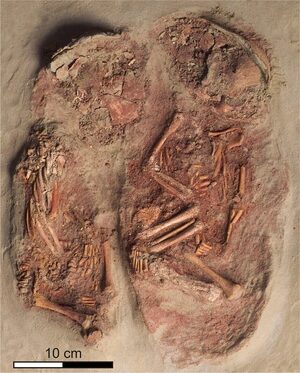 A team of researchers affiliated with multiple institutions in Austria, the U.S. and Portugal has identified the remains of two infants found in an ancient grave in Austria as identical twin babies. In their paper published in the journal Communications Biology, the group describes their study of the remains and the surrounding artifacts and what they learned about the burial.
Back in 2005, archeologists discovered the remains of three very
young people
buried in a grave at the Krems-Wachtberg, dig site in Austria — all three had been dated to approximately 30,000 years ago.
Work at the site has revealed the presence of an ancient settlement called Gravettian. In this new effort, the researchers have studied the remains of the three
infants
and analyzed other artifacts found in the gravesite with them.