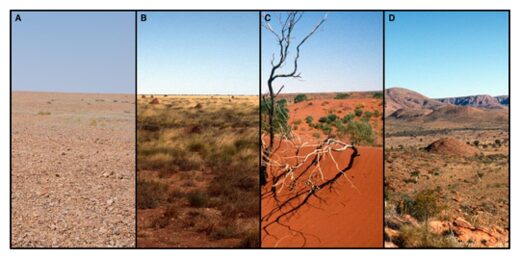 Researchers at the University of Adelaide have used more than two decades of satellite-derived environmental data to form hypotheses about the possible foraging habitats of pre-contact Aboriginal peoples living in Australia's Western Desert.
As one of the most arid and geographically remote regions of Australia, the Western Desert has always presented severe challenges for human survival. Yet despite the harsh conditions, Aboriginal peoples have maintained an enduring presence, continuously adapting to environmental variations through complex socioeconomic strategies.
In the study published in
Scientific Reports
, the researchers used Earth Observation data to model the most suitable habitats for traditional foraging activities, identifying where surface water was most abundant and vegetation was greenest to infer which areas of the landscape past Aboriginal peoples were likely to have utilised. The study also drew on previous research into traditional subsistence and settlement practices, enabling researchers to estimate daily foraging range in proximity to water.
Lead author of the study, Postdoctoral Researcher Dr Wallace Boone Law, says the fine scale of the satellite model developed enabled the team to depict the highly variable nature of environmental and hence potential foraging habitats in the Western Desert.