The members of the Don expedition of IA RAS have found a unique plate with a depiction of winged Scythian gods in surrounding of griffons during their examinations of the barrow cemetery Devitsa V in Ostrogozhsky District of Voronezh Oblast.
This is the first case of such a finding in the Scythian barrows on Middle Don, earlier there have never been found the items with the depictions of gods from the Scythian pantheon.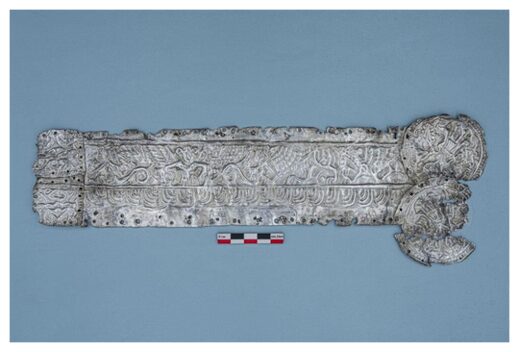 "The finding has made an important contribution to our concepts of Scythian beliefs. Firstly, a particular number of gods are depicted at once on one item. Secondly, it has never happened before that an item with depicted gods has been found so far from the north-east of the main Scythian centers", said the head of the Don expedition, doctor of historical sciences,
Valeriy Gulyaev
.
Barrow cemetery Devitsa V named after the neighboring village area was found in 2000 by the Don archaeological expedition of IA RAS. The site is situated on the hill of the right bank of the river Devitsa and is a group of 19 mounds which are situated in two parallel chains stretched from west to east. However, the significant part of ancient barrows has already disappeared: the necropolis area belongs to an agricultural sector and being actively ploughed.
Since 2010 the site has been systematically studied by the specialists from the Don expedition of IA RAS. During the cemetery excavations some great discoveries have already been made. Thus in 2019 in the barrow 9 the burial was found which held the remains of a woman-warrior and an old lady in a ceremonial female head wear - calathe.