Last month, part of a major wall came tumbling down in Pompeii, the ancient Roman city frozen in time by a first-century eruption of Mount Vesuvius. It was only the latest in a spate of collapses at the site, which experts say is in critical condition.
Though the site is said to be safe for tourists, the disintegration is alarming enough to have spurred the European Union to pledge 105 million euros (145 million dollars) for preservation.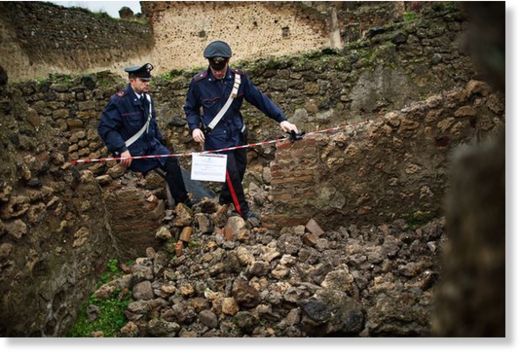 (Related: "
Pompeiians Flash-Heated to Death - 'No Time to Suffocate
.'")
Troubles at the World Heritage site, near modern Naples in southern Italy, began in earnest last year. In November 2010 Pompeii's Schola Armaturarum, a large building once used by gladiators for training, crumbled overnight due to water infiltration. Just a few weeks later, a 12-meter-long (13-yard) wall protecting a structure known as the House of the Moralist had fallen down in heavy rain.
Now that poor weather has returned, more trouble has followed. In late October, a portion of Pompeii's perimeter wall came apart.