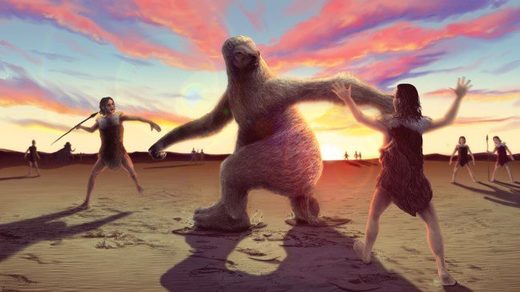 When humankind entered North America, fifteen thousand years ago or more, it entered a world of giants-woolly mammoths, dire wolves, sabre-toothed cats, short-faced bears (effectively grizzlies on stilts). But, by
the end of the Ice Age, about ten thousand years ago
, the megafauna was mostly gone, driven extinct by the warming climate and, many scientists think, predation by us.
A paper in this week's issue of
Science Advances
offers
tantalizing evidence
of that grim process in action. Archeologists working
at White Sands National Monument, in New Mexico, found a series of fossilized footprints made by giant ground sloths
, lumbering behemoths that once roamed North and South America.
The tracks date to between ten thousand and fifteen thousand years ago
, when the region was much wetter than it is today. The giant sloth was herbivorous but nonetheless a fearsome creature-
eight feet tall when standing on its hind legs
, with long arms, and long claws extending from its padded feet.