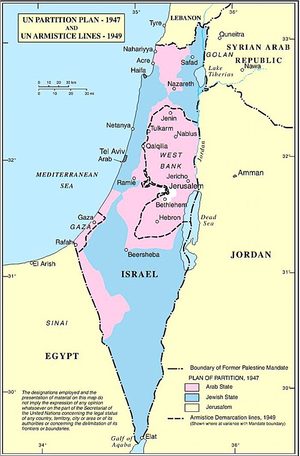 I once believed that Israel has never defined its borders. It was one of those things that "everyone knows". I was corrected by the blogger talknic. Mondoweiss is privileged to have talknic as a frequent commenter, and many readers here will be familiar with the document to which he pointed me: the
letter written by Eliahu Epstein, the representative of the Jewish Agency in Washington, to President Truman
and to the State Department, on May 14, 1948.
Epstein's letter to Truman
In the letter, the
Provisional Government of Israel formally requested the United States to recognize the new State of Israel
which was about to be declared in Tel Aviv, effective one minute after midnight (6 p.m Washington time)
when the British Mandate over Palestine ended.
It begins (my emphasis
My dear Mr. President, I have the honor to notify you that the State of Israel has been proclaimed as an independent republic within the frontiers approved by the General Assembly of the United Nations in its Resolution of November 29, 1947.
(The full text is given in the link above, and also appears below.) The resolution referred to,
UNGA Resolution 181
,
recommended the partition of Palestine into separate Jewish and Arab states.
The Zionist leadership had
publicly accepted the Partition Plan, and this letter defines the borders of Israel to be those specified in the Plan
(see map attached).